We've moved our review section to Trustpilot.
---
Previous Reviews
EXCELLENT
Christine is the most reliable interpreter I have worked with! Before my visit to Guangzhou, she helped me to plan everything well. During our trip, she always gave me reasonable advice, and was patient to me. She speak English quite well, not any Chinese accent. Thanks for her help!
Adam
A really good interpreter….
Olivia was assisting me during the whole day event. She was very professional and engaged to her role. She did her best to build contact for me with my potential business partners. I think she's the best English speaking Chinese I met. She have very decent Western accent. Strongly recommended!
Kris
Great interpreter who helped us with suppliers and travel
Smoke helped us with our travel arrangements and also was valuable during business meetings and also lunch and dinner. Our suppliers spoke some English but Smoke helped to get our ideas and thoughts across to our partners and to ensure there were no misunderstandings. Smoke also helped when we were on our own, getting train tickets, booking hotels and restaurants, ordering at restaurants.
I would recommend him to anyone traveling in China
Rohan Murphy
Joyce performs like a Super Girl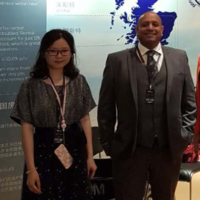 We hired Joyce as our Secretary whilst we did business in China. She reached all her goals and went the extra mile without being asked. She is a true Super Girl and never stopped working even outside business working hours. As well as being our Secretary she also interacted with our Clients to maintain future business relationships for when we departed China. She has boosted our business with Chinese Clients. I don't think we could've asked for anyone better than Joyce. We will be visiting China several times a year and will definitely use Joyce each time. A massive thank you to Joyce for everything you have done.
Shaun
Letter of Reference for Mae Liu, for Mandarin / English Translation Services
I would fully recommend use of the supporting translation services provided Mae. I worked with Mae in Yantai, to support a Quality and Safety audit of a supplier. Mae was very able to professionally interpret my questions and provide answers to / from English. The type of work being done was very technical, and although some of the material / terminology being used was new to her, she diligently provided a comprehensive explanation. I have the utmost confidence in her ability as a translator, however what differentiates Mae is her skillfulness in ensuring my cultural awareness as a guest in another country, and capability to express the same passion as I had, when I would make my speech.
Kind Regards
**YES!!!** Smoke has my highest recommendation!!
My company hired Smoke for 5 days in China. We traveled over 1000 miles — via train, car, taxi, and by foot. We went to business dinners, factory tours, office meetings, and fun nights out. We had meetings where no one else spoke English but Smoke and Us. We had meetings where the other party spoke a reasonable amount of English. Through it all — Smoke was perfect. He is adaptable and absolutely professional. We give him 5 stars and will absolutely use him again!!
Matthew Garrett
Enigneering business trip
Mengkun was reffered to us as a interpreter with engineering degree. We met at Hangzhou Train station and left to Hainning for business purposes, he was a great guy easy spoken and with great language skills., I explained my purpose in terms of machinery and he understood all very well,, he helped me create a better business relationship, I will follow up with him until I close this business,,
please give an opportunity to this young and bright man, he is worth it.
besides translating he will help u arrange trip and make all travel go smoothly.
Luis Fernando
Leon did a Greta job!
As a woman is not always easy to work/travel in foreign countries, but with Leon's help I didn't have any issues.
Leon's English and understanding of the western culture really impressed me. I asked several questions about the Chinese culture in order to improve my knowledge.
Thank you Leon see you soon!
Chiara Zaniboni
Leon has my highest recommendations and upmost respect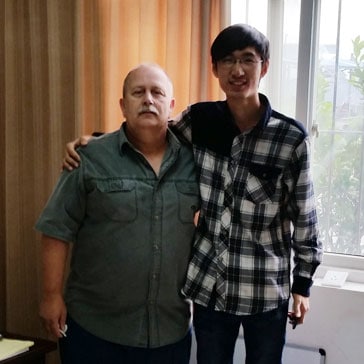 I have employed Leon on several business trips to China over the last 3 months. As a non Chinese speaking American, I needed a reliable translator and assistant. Leon far exceeded my highest expectations. His use of the English language, and understanding of the western culture made my job a lot easier, and made me feel at ease. We were working on a project well outside his skill level ( 140 meter vessel), but his eagerness to learn was most impressive. If the opportunity arises again, I will not think twice in asking Leon to assist me. He has my highest recommendations and upmost respect.
Gary Knox
Very professional !!!
I am very very satisfied with their service provided by them. I do business trips very often to many cities in China, and usually I asked for their service to find translator with almost no time. However, their interpreters network is so big that they managed to help me even with a rush of time! Very professionals. Highly recommended for any foreigner in need of interpreters.
Angel
Pecan
EXCELLENT EMMA
I love working with Emma in exact dates and completing the tasks required, easy to deal with, some days did not stop working even outside of working hours, serious work even after my return to Saudi Arabia ….. Thanks a lot.
MOHAMMED ALGHAMDI
5 Stars To Olivia
I really love the way the interpreter Olivia communicates..She speaks queens english ..I recommend her a million times..if I was to rate her on a scale of one to 100,will definitely be giving her 120..
Ojoma sule