Chinese Interpreter China Translator: Hire One Securely & FAST.
Featured Chinese Interpreter
Trusted by World Fortune 500 and Small Business Alike
Top quality, hand-picked (from 1400+) English-Chinese interpreters.
ID Pro. Trusted by serious businesses.
Reviews from Our Happy Customers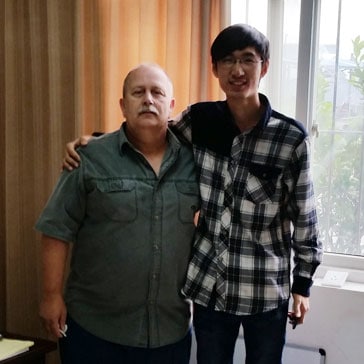 I have employed Leon on several business trips to China over the last 3 months. As a non Chinese speaking American, I needed a reliable translator and assistant. Leon far exceeded my highest expectations. His use of the English language, and understanding of the western culture made my job a lot easier, and made me feel at ease. We were working on a project well outside his skill level ( 140 meter vessel), but his eagerness to learn was most impressive. If the opportunity arises again, I will not think twice in asking Leon to assist me. He has my highest recommendations and upmost respect.
Gary Knox, founder of Fourth Dimension Engineering Inc.
We hired Joyce as our Secretary whilst we did business in China. She reached all her goals and went the extra mile without being asked. She is a true Super Girl and never stopped working even outside business working hours. As well as being our Secretary she also interacted with our Clients to maintain future business relationships for when we departed China. She has boosted our business with Chinese Clients. I don't think we could've asked for anyone better than Joyce. We will be visiting China several times a year and will definitely use Joyce each time. A massive thank you to Joyce for everything you have done.
Shaun, founder of The Property Supplier
China Interpreter and Translator in Major Cities
Guangzhou Interpreter, Shanghai Interpreter, Beijing Interpreter, Shenzhen Interpreter, Tianjin Interpreter, Ningbo Interpreter, Yiwu Interpreter, Dongguan Interpreter, Hangzhou Interpreter, Suzhou Interpreter, Xi'an Interpreter, Nanjing Interpreter, Chengdu Interpreter, Qingdao Interpreter
Check out the complete city list
For Your Business with China
We offer ALL-IN-ONE service from product sourcing to delivery to your door. Efficiently source the best product at the best price.
Product Sourcing / Factory Sourcing
Supplier Evaluation
Order Placing
Quality Control
Finished Goods for Loading
Domestic Shipping
International Shipping
Destination Delivery
Hire a Chinese Interpreter to Visit China Fairs, Trade Shows, Exhibitions
Canton Fair (China Import & Export Fair), Guangzhou (中国进出口商品交易会, 广交会)
Yiwu Commdities Fair, Yiwu (中国义乌国际小商品博览会)
Beijing International Auto Show, Beijing (北京国际汽车展览会)
Bauma China, Shanghai (上海宝马展)
ECF – East China Import and Export Commodity Fair, Shanghai (华东进出口商品交易会)
CEF – China Electronics Fair, Shenzhen (中国电子博览会)
FSME – South China International Stainless Steel and Metal Exhibition, Foshan (华南不锈钢•金属材料展览会)
Hong Kong Fashion Week, Hongkong (香港时装周)
CNISE – China International Stationery & Gifts Exposition, Ningbo (中国国际文具礼品博览会)
Check out the complete list of  China trade shows
China Wholesale Markets in Major Cities
Guangzhou Baima Clothing Wholesale Market 广州白马服装批发市场 (A good place to go if you are in the clothing industry)
Zhejiang Yiwu China Commodity City 浙江义乌小商品批发城 (A famous place for small commodities wholesale, trading and exports)
Hangzhou China Silk Town, 杭州中国丝绸城 (A famous silk wholesale market)
Shanghai Jiangqiao Wholesale Market 上海市江桥批发市场
Beijing Great Red Gate Costumes Wholesales Market 大红门服装批发市场 (The biggest clothing wholesale market in north China)
Chengdu Lotus Pool (Hehuachi) Wholesale Center 成都荷花池批发市场
Shenzhen Taoyuan Clothing City 深圳桃源外贸服装城
Foshan International Furniture Expo Mall 佛山国际家居博览城
Chinese Interpreter For Your Tour in China
Our Chinese interpreters offer tour guiding, flight ticket booking, hotel booking and car rental services.
Tour Guide
Flight Booking
Train Booking
Car Rental
Find Your Interpreter Today
Join hundreds of business owners who use Interpreter Database for their language needs in China for a successful business trip.