Guangzhou is the third-biggest city in China, and it's also one of most important trading city in the world.
Whenever people think of China they tend to think of all the goods that have a 'made in China' sticker on them. Of course, there is more to China than just manufactured goods but if you ever want to dig deeper into the commerce aspect of this great country, then Guangzhou is the city where you should visit. Formerly known as Canton, Guangzhou is well known for being the go-to city for foreign merchants and is well known for being the biggest trading port in the world.
Here are 6 things you can't miss in Guangzhou.
1. Canton Import and Export Fair
Canton Import and Export Fair is known for being a trading fair that has been around since 1957. What makes this place a big deal is the fact that it is known for having a large amount of people attend as well as having the most business deals carried out at this very location. If you are the kind of person who would love to see the various things that are made in China, then you should attend this event because it has a large variety of products as well as people who buy and sell at this event.
2. Shamian Island
Located in Guangdong Providence, Shamian Island is an island that is separated by a river and a canal with bridge. This island is not like any other island that you may have in mind. Shamian Island is actually quite city-like and a downtown area. This area is full of shopping, restaurants, and is actually a tourist attraction. If you walked down its streets you would see everything that a normal downtown area would have such as a hotel, bank, schools, historical buildings and places of business. The historical buildings include Chinese artifacts, museums, and even a gift shop.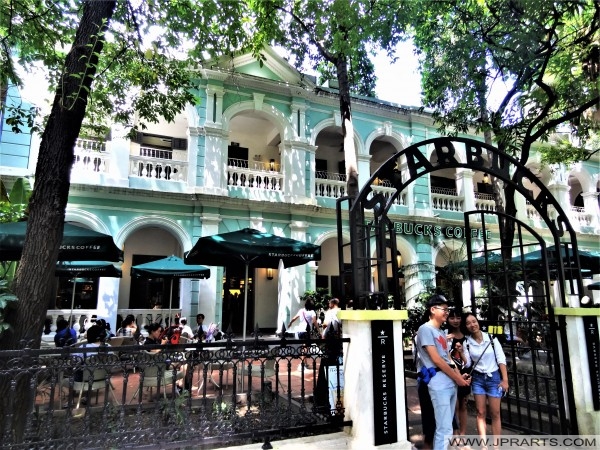 3. Canton Tower
How would you like to visit the 3rd highest tower in the world, let alone China? This view at the top of Canton Tower can make you feel as if you are floating on top of the world. This 600 meter (1,968 foot) high tower features sightseeing such as a 4D cinema, shops, a Ferris wheel and more.
4. Chen Clan Ancestral Hall-Folk Craft Museum
Chen Clan Ancestral Hall is none other than Guangdong's Folk Art Museum and it houses 19 buildings, 9 halls, and has 6 courtyards.
This building has a very distinctive Chinese architecture and structure. It also has Chinese relics in it that you can find only in China such as pottery, wood art (such as wooden sculptures and wood craving) and all other neatly crafted art pieces.
The museum section was not always there. As a matter of fact, the ancestral hall was built as an original temple to worship the Chen ancestors as well as a school to train for an imperial examination- in other words, a charm school to groom those who were soon to be in power. This folk-art museum is cherished and embraced by China that it is under the protection of the state because of its cultural relics and importance.
5. Chimelong Safari Park
Would you like to visit the world's largest wild animal theme park? Go to Chimelong Safari Park!
The park has over 20,000 rare animals. Shopping and dining are available at the park and there is also an aerial cable car so you can have a great view of all the animals.  Afraid of heights? There is a feature called Safari on Wheels that allows you to drive yourself, in a car, through the park which allows for a self-guided safari where the animals roam free and you can have your own adventure.
6. Shopping
If you want a snapshot of a very modern Guangzhou, visit Beijing Road – a busy and booming pedestrian street packed with hawker stalls and what feels like the entire city population at all points of the day.
A more refined shopping experience can be found in Tianhe, a fast-gentrifying business district that's popular with Hong Kong weekenders (it's handily near the main Guangzhou East train station). The Taikoo Hui shopping centre is a far calmer retail experience, name-checking over 180 big brands.
No matter you are coming to Guangzhou for tourism or for business trip, it is worth to explore these places. And I would love to be your private interpreter and tour guide during your short stay in Guangzhou!
Welcome and Join me to explore Guangzhou!