A Heaven of Clothes: A Guide to 3 Popular Clothes Markets in Guangzhou China
It is never difficult to find affordable clothes in Guangzhou as there are lots of large-scale, famous markets as well as shops around Guangzhou metro lines.
Clothes wholesale markets are great if you're:
Looking for stocks
With small order quantity
Targeting at low to middle end markets
The following are the top three famous garment markets in Guangzhou where you can get quality goods on a budget.
Shisanhang clothes wholesale markets
Shahe clothes wholesale markets
Zhanxi clothes wholesale markets
Now, let's delve into these clothes wholesale markets in Guangzhou.
1. Guangzhou Shisanhang Clothing Wholesale Market Area 
A visit to Shisanhang clothes market takes you down to the historical Xiguan area and it's also close to Liwan Plaza jewelry market if you are also looking for jewelry or fashion products.
On Shisanhang Road, there are two most famous buildings including New China Building and Hongbiantian Building, both focus on China wholesale fashion clothes, sports apparel for men, women and kids. Prices differ upon quantity and quality, usually it starts from 20-200 RMB. Many other shops on Shisanghang Road with many China t-shirt manufacturers offering middle quality clothes at much incentive price. The opening time for wholesale stores is quite early, usually at around 5 am and close at about 2 pm.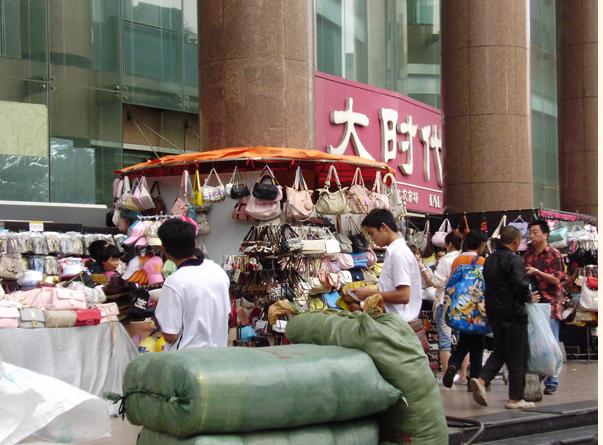 Add:  Shisanhang, Liwan District, Guangzhou
How to get to Shisanhang clothes markets?
# Metro: Cultural Park, Line 6
2. Shahe Clothes Wholesale Markets 
Shahe clothes wholesale market area consists of several clothes wholesale buildings with floors of China wholesale clothes stores tucked inside. Products prices in here are really cheap compare with the other two big markets in Guangzhou. This area is really big, and most sellers on Taobao or other online market places get the clothes from here.
There are several markets with the low-middle price, attracting most wholesalers or retailers from all over the world. No matter you are wholesalers, retailer, or online store owner, you can't miss this market, which a place can get the lowest price.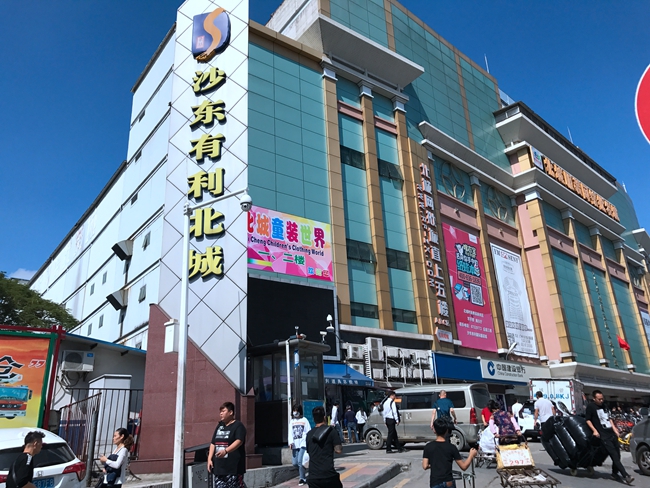 How to get to Shahe clothes markets?
Take metro Line 6, and get off at Shaheding station.
3. Zhanxi: Clothes Wholesale Markets around Guangzhou Railway Station 
The clothes wholesale markets area around Guangzhou Railway Station is known to boast a comprehensive set of clothing wholesale buildings on both sides. On one side along Guangzhou watch market, you can find Huimei international clothes city, Jindu clothes market, etc. While on the other side across the bridge you'll find Baima clothes market, Yima clothes market, The First Tunnel Clothes Market on the underground, etc.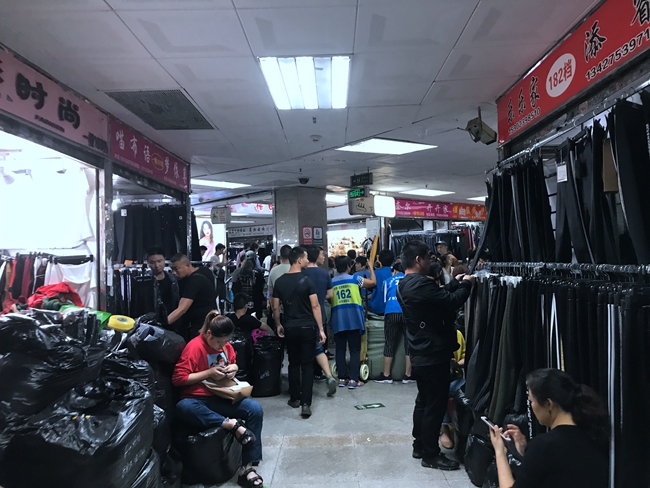 How to get to Zhanxi clothes wholesale markets?
Take Line 2 or Line 5, and get off at Guangzhou railway station.
What to be aware of while buying from China clothes wholesale markets?
Opening time: Some markets open in the earlier morning and close at noon like 13:00pm while some markets open from 9:00-10:00am to 18:00-19:00pm.
Traffic: Traffic can be a nightmare if you rent a car for a day to go to different markets. Parking and getting stuck in the road will kill most of the day. It's suggested to go by metro or take taxi.
Quality: It's quite challenging to do quality inspection in the shops in the wholesale markets if you're buying in bulk. Most of the shops take up very limited spaces, there's even traffic congestion inside the markets, sometimes you can't even move forward with the huge crowds. There're chances that you might get some inferior ones.
Returning policy: Changing room is rare, and it's almost impossible to get money back, so check carefully before going into the deal.
I've been guiding many foreign buyers to these clothing markets, I know every corner of the markets. If you want to save your time and money during your short stay in Guangzhou for garment procurement, I'm the right person for you. I'm happy to assist your trip anytime, feel free to contact me for more details.